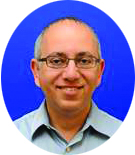 Professor Ido Wolf, Head of Oncology Division, Tel Aviv Medical Center, Israel.
Professor Wolf completed his BMedSc and MD studies at the Faculty of Health Science, Ben Gurion University of the Negev and specialized in internal medicine and medical oncology at the Sheba Medical Center.
He completed his MA at the Sackler Faculty of Medicine, Tel Aviv University and did a postdoctoral fellowship at the Division of Hematology Oncology, Cedar-Sinai Medical Center, UCLA School of Medicine under the supervision of Professor HP Koeffler.
Professor Wolf was former head of the Oncology Department at Sheba Medical Center and since 2016 heads the Oncology Division and the Oncology Research Lab at Tel Aviv Medical Center. Professor Wolf is the head of the National Council for the Prevention and Treatment of Malignant Diseases and of the National Committee of Board Exams in Oncology.
His research focuses on endocrine aspects of cancer. His team discovered the tumor suppressor activities of the hormone klotho and was among the first to identify novel mutations of the estrogen receptor, which confer resistance to hormonal therapies.  Current projects in the lab focus on the role of genomic alterations in determining tropism of metastases.
He published over 80 peer-reviewed articles and won prestigious grants and awards, including ISF, BSF, ICA, Rappaport prize and the Hirchberg Foundation award.