Dear Colleagues,
It is with great pleasure that we invite you to join us for The Virtual Congress on Innovations in Gastrointestinal Cancers (Virtual-GI) which will take place 3 December 2020.
Virtual GI will raise hot debates associated with the most recent advances in the care of gastrointestinal cancers, focusing on the role of molecular and personalized approach, immunotherapy: MSI-high and beyond, and innovative approaches to the treatment of gastric and colon cancer, hepatocellular carcinoma (HCC), neuroendocrine tumors (NETS). Discussion will include the role of complex gene analysis, update of the current algorithms, targeted therapies and immunotherapy.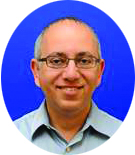 Prof  Ido Wolf
Head of Oncology Division, Tel Aviv Medical Center, Israel
READ MORE
REGISTER NOW
Register Now
VIRTUAL CONFERENCE
Unique Learning Experience
SPONSORSHIP/EXHIBITION
View Sponsorship Opportunities

Contact Us
Please drop us a line with any questions or comments you may have.

We look forward to hearing from you.